Almond Milk
makes about 1 liter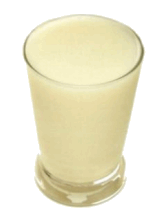 ½ cup almonds, soaked and hulled
pinch sea salt
1 Tbsp. maple syrup or agave nectar
1 liter water (about 1 3/4 cups)

Soak ½ cup almonds 4-6 hours; remove the brown hulls. Put hulled almonds in blender with small amount of water and make a smooth paste. Add more water gradually, and a pinch of sea salt and syrup or nectar; strain. (Retain the pulp to add to oatmeal or other cereal.) Chill.
Better than cows' milk! Berries or other fruit may be added if desired, or a few drops of vanilla extract.
--- Betse Streng
Note from Angela: Blanched almonds could be used to eliminate the need to remove the bitter outer brown layer of the almond.
For an unsweetened product, of course one can simply eliminate the syrup/agave nectar.